Thank you kindly for choosing the ShopStore:- Simple WooCommerce & Multi-Purpose WordPress Theme. And now, I think you must be thinking – deciding on layouts, inserting images, and decorating the main content of your site in general. Before getting all of this, you need to install and set up your WordPress shop theme. So, firstly, you need to purchase it, then download it from the source link, and then you'll be able to install it. And finally, you've to activate it in your WordPress Admin Dashboard. Hence, this is the easiest theme installation process of the Shopstore pro eCommerce theme.
Note: To activate, firstly, you'll require to finish the theme installation of the Shopstore pro eCommerce theme, then enter your purchase key to activate the theme.
The theme installation process of the Shopstore pro eCommerce theme can look complicated. But, if you know how to set up, it's quite simple. So first thing first, how you'll be download and install the ShopStore Pro theme:
Download Shopstore Pro Theme:
After the purchases, you'll need to download shopstore-pro.zip (Shopstore Pro Theme) file. And, shopstore-pro can be download from https://www.athemeart.com/customer-login/.
Now there you'll see the shopstore-pro download link and click this link.
And lastly, save the shopstore-pro.zip file on your computer.
Install via WordPress Upload:
First of all, go to your WordPress site's Dashboard.
Now, look for Appearance -> Themes.
Just click the Add New Theme.
Then click the Upload Theme button.
Here you'll see a browse button, and after clicking the browse button, a pop-up window will appear. So, select the shopstore-pro.zip file, and click the install button.
Finally, wait some time to installation proceed to complete, then click Activate link to activate the shopstore-pro theme.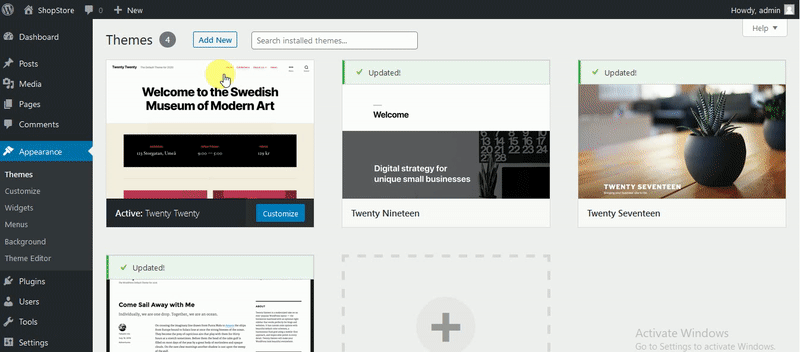 Install via FTP Upload:
As usual, download the .zip file from the source link, then unzip the shopstore-pro.zip file.
Now, turn on your FTP manager, and connect with your hosting.
Then browse to wp-content/themes.
After that, upload the shopstore-pro theme folder, and log into WordPress Dashboard and go to Appearance —> Themes.
Finally, find the prefix and click activate.
Possible Errors
When you try to install the WordPress theme and notice some messages like, are you sure you want to do it? Please try again, or the link you followed has expired? You don't have to worry, because it only happens when your server has the maximum set file size or maximum execution time set in PHP settings.
upload_max_filesize – greater than 24M
post_max_size – greater than 24M
max_execution_time – greater than 100
Activate Shopstore Pro Theme:
To activate the Shopstore Pro theme in your WordPress Dashboard, you've to follow the below steps:
Write down the shopstore pro key to the relevant field.
Then click the Save Changes button.
After that, the page will reload, and a new button will appear saying Activate Key so, click it and finish.